This article is about the SCS DeepShip 86 section. For information on the Quadrant G6 subforum, please refer to the main article.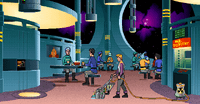 A popular recreational area for StarCon officers aboard the SCS DeepShip 86, the 8-Rear offers a spectacular view of the area of space through which the ship is traveling. Anti-shake tables provide a non-spill surface by which long dinners may be held during even the worst of space battles or other turbulence. A Mr. Soylent unit is on hand to fill any nutritional needs.
There is also a viewscreen that can be used by Commander Kielbasa to present announcements to the crew (or to thank them, for example). At other times, it lets 8-Rear patrons watch the Subspace Transmissions of major league Hairball games, Monday Night Bunionball, and the occasional pay-per-view Orat Fights.
The 8-Rear has Quadruple-Thick Plastosteel Windows that are cold to the touch.
References
Edit
The 8-Rear is a spoof on Ten Forward from Star Trek.