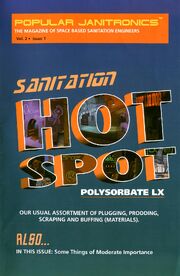 Popular Janitronics is a magazine published monthly by Sierra On-line on the planet Earth.[1] It was published some point in the future between 3043 (opening of Quimn Broom Works) and upwards 3057 ('57 Gateway Bel-Air).
Review of the latest news of what's happening in the galaxy of sanitation engineering. The issue shown here features Polysorbate LX.
This category contains all the articles that have references to the Popular Janitronics magazine included in Space Quest 6.
References
Edit
↑

Popuular Janitronics, pg 1
Pages in category "Popular Janitronics"
The following 3 pages are in this category, out of 3 total.
Ad blocker interference detected!
Wikia is a free-to-use site that makes money from advertising. We have a modified experience for viewers using ad blockers

Wikia is not accessible if you've made further modifications. Remove the custom ad blocker rule(s) and the page will load as expected.