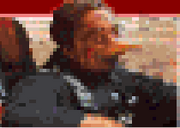 Cluck Egger is the star of Cluck Egger's Advanced Chicken Simulator.
Background
Edit
He is an expert at simulating chickens. People who play his game can learn from him about chickens.
In his game, people can design the chicken of their choice, based on an authetic flight model of a chicken (over 40 options, including lips/no lips and laying frequency) and take their creation for a wild ride over real barnyard scenery.
His name, and the simulator software box, is seen in the bargain-bin at Software Excess in the Galaxy Galleria Mall in SQIV.
Behind the scenes
Edit
Cluck Egger is a parody of Chuck Yeager, the famous NASA and US Airforce test pilot who was also the "celebrity" behind software publisher Electronic Arts first big flight simulation product "Chuck Yeagers Flight Simulator".
A similarly named character, Cluck Y'Egger, will appear in SpaceVenture.
Ad blocker interference detected!
Wikia is a free-to-use site that makes money from advertising. We have a modified experience for viewers using ad blockers

Wikia is not accessible if you've made further modifications. Remove the custom ad blocker rule(s) and the page will load as expected.