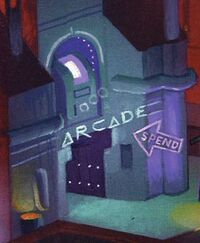 Establishment found both at the intersection of State and Rush on Polysorbate LX, offering a wide array of entertainment services, including Stooge Fighter 3, Lava Screens, Beat the Crap Out of Urkel, MBA Toejam, More Dull Kombat 2, Mixed-Up Mother Teresa and Virtual Amtrak.
Ad blocker interference detected!
Wikia is a free-to-use site that makes money from advertising. We have a modified experience for viewers using ad blockers

Wikia is not accessible if you've made further modifications. Remove the custom ad blocker rule(s) and the page will load as expected.