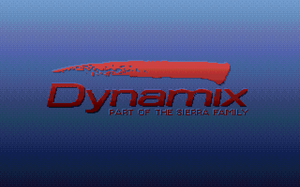 Dynamix, Inc. was an American developer of computer games. The company was founded in 1984 by Jeff Tunnell and Damon Slye in Eugene, Oregon.
Their first title was Stellar 7. Originally released before the founding of Dynamix, the game was later re-released with the Dynamix name on it and thus became the company's first published title.
In the following years, Dynamix created a line of action games for Electronic Arts, including one of the first games for the Commodore Amiga, Arcticfox. Later titles were developed for Activision. After self-publishing their games for a short while, in 1990 Dynamix was bought by Sierra On-Line.
Once part of Sierra, Dynamix created some of their most famous games, including a line of adventures and flight simulations that included Red Baron and The Adventures of Willy Beamish. They also created the puzzle game The Incredible Machine. Another successful product line was the Front Page Sports series, designed by Pat Cook and Allen McPheeters which included Football, Baseball, and Golf. Versions of Red Baron and Front Page Sports Football were included as part of the ImagiNation Network.
Space Quest 5 was developed at Dynamix in 1993 and later published under the Sierra brand. A company in the game, Genetix, was a spoof on Dynamix.
In 1994, the first game in a new series called MetalTech was released, a giant robot combat game with similarities to the BattleTech universe and games. The MetalTech series later spawned the successful Tribes series.
The Dynamix studio was closed by its parent company Sierra in August, 2001, a victim of Sierra's restructuring under Vivendi Universal. Several veterans of the studio (including Tunnell), however, stayed in Eugene and founded a new studio, Garage Games.
External link