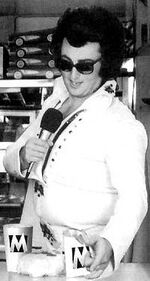 Elvis Presley is a famous Earth singer.
Background
Edit
Some believe he didn't die, he just left the building, and is traveling about space.
He is also to have many fans and look-alikes who try to mimic his style.
Titles and nicknames
Edit
Behind the scenes
Edit
Elvis Presley has been spoofed or referenced to on several occasions in the Space Quest games:
In the future, people can talk to Elvis, by calling the Elvis hotline.
A velvet Elvis, is still a popular decoration in the future. They can warm the look of a place a bit.[1]
In the Galactic Inquirer there was an article about a sighting of Elvis at Monolith Burger.
He can sometimes be seen walking around in the background at the StarCon Academy.
In Nigel and Singent's room at the Dew Beam Inn, there's a Pelvis rug on the wall.
An alien who looks like Elvis can be sometimes be seen at the 8-Rear on the DeepShip 86.
Cite error: <ref> tags exist, but no <references/> tag was found
Ad blocker interference detected!
Wikia is a free-to-use site that makes money from advertising. We have a modified experience for viewers using ad blockers

Wikia is not accessible if you've made further modifications. Remove the custom ad blocker rule(s) and the page will load as expected.