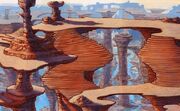 Estros is a planet that Roger Wilco visited in the Space Quest 10 period.
Background
Edit
Inhabited by the Latex Babes of Estros. Roger arrived there in a timepod, was captured by the aforementioned babes, later saved them from an Estrosian Sea Slug and left the planet when he was taken to the Galaxy Galleria for a shopping spree.
Estros appears also to be used as the name of the sun. It is simply described as the Estros sun or the sun of Estros.
Estros appears to be within the Earnon Galaxy although by the time of Space Quest IV era many simply call it the 'galaxy'. Documents certainly contain several references that which in context places Xenon and Estros within the same galaxy.
Locations
Edit
Behind the scenes
Edit
The name "estros" comes from the word "estras" ("menopause") when women stop producing extra "estrogen" (see "State of Estros"). "Estrogen" is the hormones which produce females.
References
Edit
Ad blocker interference detected!
Wikia is a free-to-use site that makes money from advertising. We have a modified experience for viewers using ad blockers

Wikia is not accessible if you've made further modifications. Remove the custom ad blocker rule(s) and the page will load as expected.