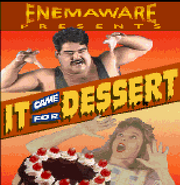 It Came For Dessert from Enemaware is available for 61 buckazoids from Software Excess.
Back of Box
Edit
Head for the hills! It's coming, and this time, it's HUNGRY! IT CAME FOR DESSERT is a thrilling action/adventure in which a mob of pushy, overweight relatives invade your kitchen. Armed only with a Jell-O mold and a pastry bag, you must repel the invaders... always keeping one eye on your blood sugar level. It's the merriest mix-up since Enemaware's fabulous DEFENDER OF THE CROWN RIB ROAST.
Behind the scenes
Edit
Ad blocker interference detected!
Wikia is a free-to-use site that makes money from advertising. We have a modified experience for viewers using ad blockers

Wikia is not accessible if you've made further modifications. Remove the custom ad blocker rule(s) and the page will load as expected.