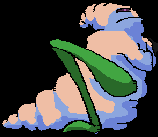 Main research attendant stationed in Sickbay on the SCS DeepShip 86.
Plot Inconsistency
Edit
Roger offers Jebba the Hop a "free plunge job, day or night". But when trying to take the Autobucks-card in Roger's Quarters, you're told that "you have no need for money aboard the DeepShip, everything's free".
It could, however, mean that Roger is willing to give Jebba an extra plunge job that isn't on his compulsory work schedule. Because it's uncertain whether or not this "everything" also applies to such services.
Jebba the Hop looks like a cross between Jabba the Hutt from Star Wars and a grasshopper.