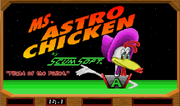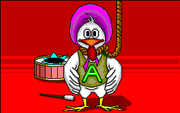 Ms. Astro Chicken is Mother Most Fowl. She is the mate to the master Astro Chicken and now a star in her own right.[1]
She is also the title character of an arcade game, Ms. Astro Chicken: Flight of the Pullet (known simply as 'Ms. Astro Chicken' to most gamers), produced by ScumSoft during the Space Quest X era. Ms. Astro Chicken can fly and lay eggs, allowing her to knock out farmers and dogs. But her greatest enemy is the evil Flying Fox-Like-Creature (often referred to as a flying squirrel).
She has been known to get into quarrels with Cedric the owl, and come out the victor, giving a hearty "Bacock!".
Behind the scenes
Edit
In Planet Pinball: Level 1, Ms. Astro Chicken takes the place of the Energizer Bunny. Roger needs find a string on the pinball table to capture her, as she walks across the field drumming.
Cedric the Owl is a reference to a character from King's Quest V, who accompanies Graham throughout his adventure, mostly to provide advice. He has been considered annoying.
The name "Ms. Astro Chicken" is a reference to the arcade game Ms. Pac Man
Cite error: <ref> tags exist, but no <references/> tag was found
Ad blocker interference detected!
Wikia is a free-to-use site that makes money from advertising. We have a modified experience for viewers using ad blockers

Wikia is not accessible if you've made further modifications. Remove the custom ad blocker rule(s) and the page will load as expected.