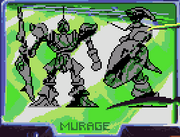 Murage
is a droid available at the
Droids-B-Us
store.
Salesbug description
Edit
Ah, yes, a truly beautiful piece of machinery. This design rates five starts. Although a handsome machine, this robot has a habit of killing people without any real reason. I'd love to sell you one, but every last one I had was snapped up by a movie director from New Japan IV - sorry.
Ad blocker interference detected!
Wikia is a free-to-use site that makes money from advertising. We have a modified experience for viewers using ad blockers

Wikia is not accessible if you've made further modifications. Remove the custom ad blocker rule(s) and the page will load as expected.