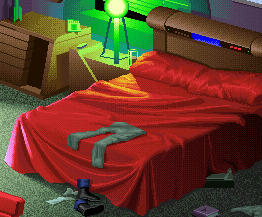 Onboard the SCS Deepship 86, Roger Wilco, like all other StarCon personnel, had a standard issue StarCon bed in his quarters, complete with sequin covered, shimmery red sheets. The headboard contains vital telemetry modules, full-spectrum illumination and, as the ultimate in high tech entertainment, an eight-track player with quadrophonic sound.
Ad blocker interference detected!
Wikia is a free-to-use site that makes money from advertising. We have a modified experience for viewers using ad blockers

Wikia is not accessible if you've made further modifications. Remove the custom ad blocker rule(s) and the page will load as expected.