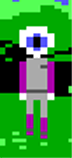 A tongue-in-cheek remake of SQ2 made by the #sq regulars. It was currently a work in progress & its current status (canceled or otherwise) is unknown as it no longer has a reliable means of web presence.
The game, something of a spoof of the original, featured an altered Roger with an eye for a head, a complete re-scoring in music, and an assortment of new sprites and new dialog.
The game was available at http://www.sq2eye.com but the site is not active as of December 15, 2007. No replacement site seems to be evident or a site where the current work-in-progress can be readily downloaded.
The latest version (from somewhere around mid-2007) can be downloaded here.
Ad blocker interference detected!
Wikia is a free-to-use site that makes money from advertising. We have a modified experience for viewers using ad blockers

Wikia is not accessible if you've made further modifications. Remove the custom ad blocker rule(s) and the page will load as expected.