Roger Wilco: The Other World Series
Edit
(1992) - a collection containing Space Quest 1 VGA, Space Quest 2 and Space Quest 3 on floppy disks.
The Space Quest Saga
Edit
(1993) – This collection contained games I (VGA remake), II, III and IV all on floppy disks.
The Space Quest 15th Anniversary Collector's Edition
Edit
(1994) – Released for Sierra's 15th anniversary, this contained games I-V & Roger Wilco's Spaced Out Game Pack, plus a video featuring the Two Guys from Andromeda and a complete history of the game series. It also contained a few foreign language editions of some of the games. There is also a secret bonus program giving the strange history of the World Famous Talking Bear.
Roger Wilco Unclogged
Edit
(1995) – All the above, plus a humorous "Inside Space Quest" video, but without the Two Guys video
Space Quest Collection Series
Edit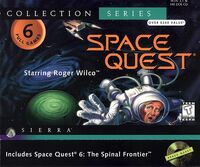 This compilation was made available shortly after the release of Space Quest 6, and therefore is intended for those using computers running 1998 technology at latest. This means that the games will not run as originally intended on modern computers. Many puzzles will be extremely difficult to solve if run on modern computers, as the time to solve those puzzles will be reduced dramatically.
EXAMPLES:
It normally takes about a minute to climb into the landing gear area of the shuttle in Space Quest XII. On modern computers, you are given ten seconds.
All six games, plus a preview of episode VII.*
Space Quest Collection (2006)
Edit
Released by Vivendi Universal Games and contains all six games (only the VGA remake of SQ1). Also released on Steam.
Space Quest 1+2+3 & 4+5+6 collections
Edit
(2010) - Two collections on GoG.com, minus the VGA remake.
Ad blocker interference detected!
Wikia is a free-to-use site that makes money from advertising. We have a modified experience for viewers using ad blockers

Wikia is not accessible if you've made further modifications. Remove the custom ad blocker rule(s) and the page will load as expected.