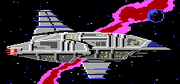 Sarien Battle Cruisers
are imposingly massive ships.
Background
Edit
They can easily overtake Xenon Starlabs. The Deltaur (original version) was of the Sarien Battle Cruiser design in the Space Quest I: The Sarien Encounter (original version) time line. Though Roger remembers encountering a Sarien Mantis-Class StarRipper battle cruiser instead.[1][2] This was an apparent side effect of his time travel.
References
Edit