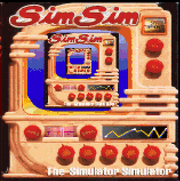 Sim Sim from MaxThis! Software is available for 71 buckazoids from the Bargain Bin at Software Excess.
Back of Box
Edit
It's here at last! With a combination of SAI (Simulated Artificial Intelligence), and VRAI (Virtually Real Artificial Intelligence), we at MaxThis! Software have created a simulated simulator experience that's unlike anything you've ever simulated playing before. With Sim Sim, you can create a simulated environment in which you can create any simulated environment you want!

Behind the scenes
Edit
Ad blocker interference detected!
Wikia is a free-to-use site that makes money from advertising. We have a modified experience for viewers using ad blockers

Wikia is not accessible if you've made further modifications. Remove the custom ad blocker rule(s) and the page will load as expected.