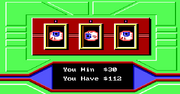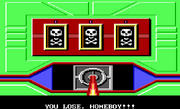 Slot machine created by the Gippazoid Novelty Company, found in many places including the Rocket Bar at Ulence Flats. Although it can be highly profitable, it also has a rather nasty booby prize - death!!! From the pile of vaporized particles found at the back of the bar, it would appear that it is a common occurrence. It is rumored that there is a cheat for the machine: something to do with yelling "Holy Shit" at it!
Roger Wilco played the slot machine at the Rocket Bar in order to win enough money to purchase a navigational droid and a ship. He also managed to break it - much to the annoyance of the bartender.
There are various payouts for the slot machine.
Behind the Scenes
Edit
In the EGA version, in order to win at Slots-O-Death, you have to use save-and-load until you get enough money to destroy the machine. In the VGA version, you use the magnet you acquire on the Arcada.
The name is a pun on "lots o' death", referring to its tendency to kill most players.
Ad blocker interference detected!
Wikia is a free-to-use site that makes money from advertising. We have a modified experience for viewers using ad blockers

Wikia is not accessible if you've made further modifications. Remove the custom ad blocker rule(s) and the page will load as expected.