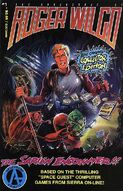 Adventure Comics (a division of Malibu Graphics Publishing Group) released three comic books in 1992 (#1 - February 1992, #2 - April 1992, #3 - May 1992) called "The Adventures of Roger Wilco", based upon the popular Space Quest computer game. The first issue was released in full color and was illustrated by John Shaw, while the other two were released in black and white and were illustrated by Paul O'Connor. The print run was very small, so these three comic books are very hard to find.
Another comic based on Space Quest is still being produced: WSSQUID, written and illustrated by Akril.
Ad blocker interference detected!
Wikia is a free-to-use site that makes money from advertising. We have a modified experience for viewers using ad blockers

Wikia is not accessible if you've made further modifications. Remove the custom ad blocker rule(s) and the page will load as expected.