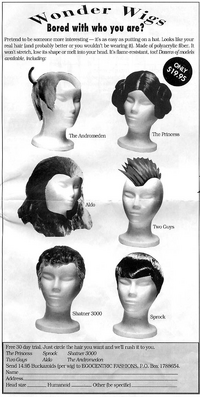 Company offering a variety of wigs in different hairstyles, and advertising in Galactic Inquirer.

Behind the scenes
Edit
A number of hairstyles are referenced here:
The Princess = Princess Leia from Star Wars
Two Guys = Two Guys From Andromeda
Shatner 3000 = William Shatner as James T. Kirk of Star Trek
Sprock = Spock from Star Trek
Ad blocker interference detected!
Wikia is a free-to-use site that makes money from advertising. We have a modified experience for viewers using ad blockers

Wikia is not accessible if you've made further modifications. Remove the custom ad blocker rule(s) and the page will load as expected.